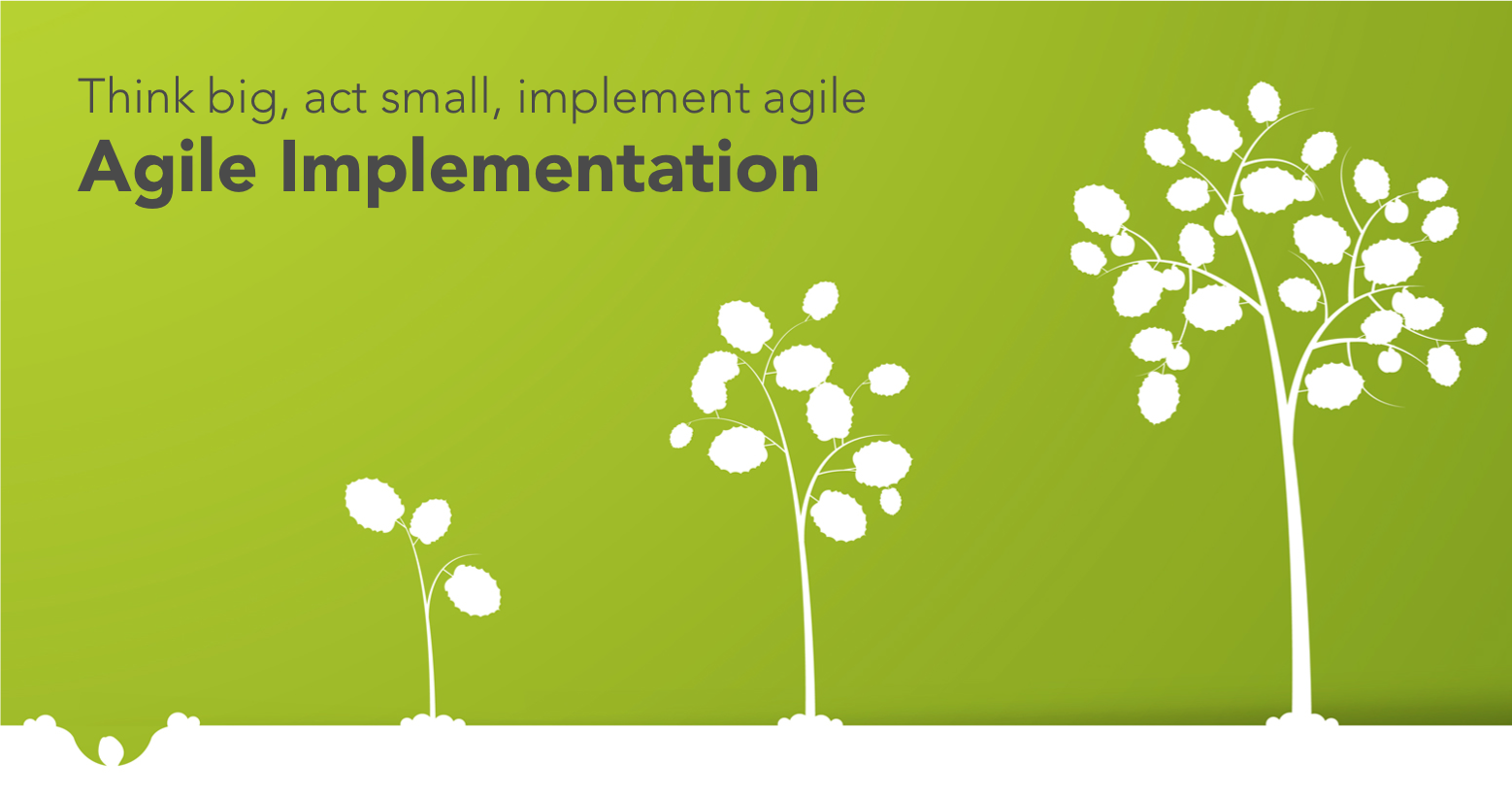 Agile Implementation
Agile Scrum implementation for agile teams, scaled agile organizations and business agility. We train and coach product owners, scrum masters and agile teams. You can rent or hire a certified professional scrum master or product owner. We help you make the transition from doing agile towards being agile.
Agile Implementation Services:
Agile is at the core of what we do. Adopting Agile is a fundamental change in organizations and impacts how employees create, collaborate and communicate. Our professionals help you in driving change and delivering growth. They have a wealth of experience at delivering complex change programs or turning around programs that are slipping or lack direction.
Typically transformation managers are employed on an interim basis, and using our interim service we can provide:
Candidate shortlists within 48 hours
Candidates that have been carefully vetted for the role
Success linked fees
To solve your critical business challenges and support rapid and scalable business growth Road2Results provides you with qualified scrum masters, product owners and agile coaches
Rent a Commercial Product Owner
To make sure the commercial teams are fully productive from day 1 and to avoid making the "beginner mistakes" when going through the learning curve of doing agile towards being agile, its wise to hire a temporary commercial product owner. Our experienced commercial product owners are certified agile professionals with both agile and commercial experience and background. Of course, you as a customer are always end responsible for the transition. Our commercial product owner is accountable for the business results, stakeholder management, maintenance of the product backlog and the sprint teams. Of course, we take care that you develop your own internal product owner capabilities so we involve our successor as early as possible in the process and we will make ourselves redundant as soon as possible.
Rent a Professional Scrum Master
Our experienced professionals scrum masters are certified agile professionals with both agile and commercial experience and background.
The Scrum Master is instrumental in initiating the Agile Scrum process and supporting the teams and making sure they adopt the Agile way of working as fast as possible. This includes not only the instrumental part like the agile tooling, daily standup, sprint planning etc. but also developing the agile teams during their development and setting their own norms based on the agile values and mindset. In the beginning the Scrum Master will instruct the teams what to do, but letting go along the development of the team and be more supportive and mentoring the teams.
Rent an Agile Coach
The purview of the Agile Coach is multi-team and looking out toward the wider organization. With thorough understanding of your specific industry, our agile coaches are comfortable working at all levels to help the organization use Agile as a strategic asset of culture change and business value generation.
C-level Agile workshop
In many organizations some teams start with working agile, but top management is not involved. Top management involvement is crucial in making agile implementation a success. It should be clear what's the business case, how agile working impacts the business model and how management should manage agile teams. This 1/2 or 1 day workshop let management experience how agile works, creates involvement and commitment for further roll-out.
Online GRIP survey to assess the status and succes of your transformation
Do you want to know the status of your transformation and get feedback from the organization? Our online GRIP survey gives you instant feedback on the three pillars of a successful transformation:
Communication: does everybody understand the sense-of-urgency and the reason-why of your transformation?
Intrinsic motivation: how well are individuals and teams motivated to participate and change themselves?
Support: how satisfied are individuals and teams about the support they get to change themselves?
The anonymous online survey takes 10 minutes from participants and can be targeted at small or large groups. The outcome is clustered according to roles, subgroups, teams or departments. Besides a rating on specific subjects, participants also provide tips for improvement. The outcome of the survey enables specific and targeted actions to address improvement potential per (sub)group. Usually the online GRIP survey is performed every 3 months to measure progress.
Implement Visual Management Agile tooling
To enable distributed teams to work effectively together in Agile Scrum teams, its essential to use Agile tooling. We developed our own best-practice and implemented this in the Target Process platform. This enables your teams to be productive from day one, zero configuration and zero implementation costs and time. We make this best-practice available to our customers. If you rent us as product owner and scrum master for at least 6 months, we provide this best-practice free of charge.
Business partner of Target Process
As a certified business partner of Target Process we can also help you to develop your own best-practices in the Target Process platform and avoid "beginner mistakes" and accelerate your learning curve and minimize configuration and implementation costs. The Target Process platform supports agile teams, scaled agile and business agility.